My mom used this recipe when I was a little girl, and I've shared the tradition with my own daughters. They like to help shape the chubby little bears. Served with honey butter, these rolls are "bear-y" special.
- Annette Ellyson - Carolina, West Virginia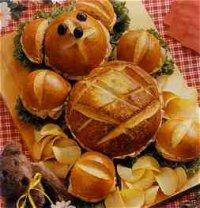 I created this fun sandwich for a picnic style meal at a teddy bear theme baby shower. The cheerful, chubby bear is formed using a round bread and rolls filled with meats, cheese and a seasoned spread. When the guest of honor mentioned plans for a teddy theme in her nursery, I latched onto the idea for the gathering.
- Sue Schuller - Brainerd, Minnesota